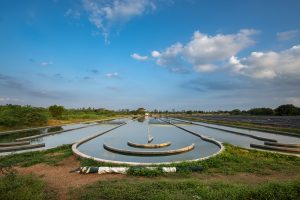 The brand Algavista is joint venture between two leading organisations in their own right. Parry Nutraceuticals and Synthite Industries. Parry Nutraceuticals is a pioneer in organic micro algae cultivation and they have been doing this for over two decades. The organic spirulina they cultivate is known all over the world for its Purity. Synthite Industries on the other hand is the worlds largest producer of value-added spices, oleoresins and essential oils. They specialise in natural extracts for several applications like fragrances, perfumery, nutraceuticals and food colouring.
Algavista's operations are conducted like a culture. There is something more to their philosophy than just business. It is an idea that is being implanted to ensure the goodness of humanity. Every process works ensuring that the quality will not be compromised. Everything is traceable, right to core of it. Algavista try to minimize processing of micro algae to a new low in order to preserve the natural goodness. The aim is to bring about good health to humanity and discover new ways to do so.
The Sustainability way
We have reached a beautiful state of awareness where we wish to include sustainable practices in our journey. This is a commitment we have taken at every single step of the process. We have chosen a location far away from human settlement and industrialisation, where the air is pure and there is an abundance of water. We have created a pond ecosystem preserved to maintain optimum algae concentration. Our ponds under the exposure of sunlight produces promising results with a dense accumulation of nutrients. Using a team of experts who have decades of experiences in this industry, Algavista is able to manufacture pure spirulina in powder form. Contamination is prevented by making sure there is minimal manual intervention. Quality is measured according to international regulatory standards. There is also a rigorous auditing conducted by international labs.
Algavista has made sure our spirulina is produced by the following measures.
Allergen free
Non-GMO
Free from sulphites.
No groundwater contamination.
Free from pesticides
Free from synthetic substances
Vegan
Free from herbicides.
Low heavy metal levels.
Algavista believes in promoting sustainability as a daily practice. It is a way of life.
VISTA BLUE
Vista blue is the name of the powder extract from Spirulina. Vista Blue is an aqua soluble powder extract isolated from the micro algae Spirulina Plantesis.Spirulina is the richest source of this blue pigment. Vista Blue is extracted from the spirulina which is grown in the organic farms of Parry Nutraceuticals. There is a nutrient compound known as Phycocyanin in Spirulina which gives it the lucrative blue colour.
The manufacturing process involves a series of processes starting with an aqueous extraction without the use of any harmful substance and solvents. Then from there, it moves from centrifugation to drying till the product is safely packed in powder form from where it is taken over by logistics team.
Market Segmentation
By Region: Western Europe is expected to be the largest market. However, North America is also expected to reflect higher growth potential. The North America Phycocyanin market is projected to grow at the highest pace to register a value CAGR of 8.4% throughout the next 10 years. This region is the second highest in terms of market value.
By nature: the conventional segment leads the market with a high revenue share. The organic segment is poised to register a higher CAGR of 8.6% in the next ten years.
By application: the food & beverages segment is the largest in terms of market value ($95.7 million i.e. 85% of total market size) and is estimated to reflect a market valuation of more than US $ 190 million by the end 2028. The nutraceuticals segment in the application category is expected to grow at the fastest pace to register a value CAGR of 8.6% during 2018-2028.
The Phycocyanin market is characterised by a massive over capacity especially by algal processors. Only 50% of the global capacity is being utilised at the moment. Phycocyanin Manufacturers feel that the market will grow rapidly in the next five years, despite production slightly being more than demand currently.
There is a spike in the applications of organic colors. The blue pigment phycocyanin is only available in Spirulina. The main focus areas are confectionary, Bakery and Diary. Ever since the south Hampton study happened synthetic colorants have been frowned upon. This renewed interest in finding natural alternatives was what sparked the idea for Algavista.